January 31st, 2018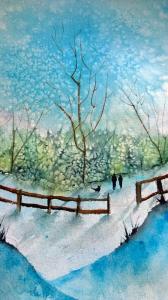 From a female trucker to a watercolorist can there be any more opposite professions?

I know for me four years ago as I began this journey that started with a $25, 2 hour introduction into Watercolor class, that I never could have seen this happen. I had been hurt bad and was told I could never drive a rig again so as I fell into sadness from the loss of the only world I had known for 25+ years I dug deep within to find something else to fill the void. I tried beading and photography and did the best I could by adding my spot to this site. I made some sales each year that covered the fee which I settled for and then I began to open up on other sites all the while I blogged about it on my wordpress site under the name NUTSFORTREASURE. Yes it is where I wrote stories about life and added some photos to go with them. I wrote poetry I am telling you I was floundering trying to fill those 18 hours each day I had spent in my rig. Re-inventing oneself at 50 is hard.

Now to the present, year 4 starts with entering so many shows I must add them to the calendar just to have pieces ready in time. Never give up is all I can say. I still miss the road don't get me wrong but the paintings you will see from me come from a place within. I use no photos I just let them flow from me onto the wet paper never knowing where it will end and if it will be worthy of a frame. You see I have finally let go of the wheel and let God guide me on this next trip and OH and what a trip!