March 11th, 2018
Have you heard about Doodlewash and Charlie who started this great presence on the web? Watercolorists can signup and make new friends as well as follow other artist's journeys. I am just into my 4th year of painting and paint everyday. I have sold many of my originals and now miss them so doing things a little differently these days. Prints, cards and items here on FAA as well as other storefronts on the web or in brick and mortar places locally.

He asked if he could do a post on my work and so far feedback has been positive though I paint for me alone I do want them to look nice or be fun to look at it as we all truly hate being judged to some degree, though I welcome comments I do not take them to heart, as we all have opinions don't we. So popover check out his work and platform and see if it is a fit for you.

You do not need to like my work as there are some I question about being art as well :) this is a wild world we all share and for the most part it is wonderful if you just look around.

The storms have to let up here with all the work to remove it it cuts into my splashing. Stay safe and have a great day!
February 24th, 2018
Running from today Feb. 24th through March 30 "Colors of the Rainbow" Theme Show will be up to be enjoyed by all who stop in at 130 Water Street Exeter NH.

Seacoast Artist Association will also have an art viewing party where you can meet some of the artists in the show on March 2 as part of First Friday Art Events throughout our country from 4-7 PM. Stop in pour yourself a glass of wine and have something to nibble on and mingle.

The level of art in this place from newbies like me to those having done it for 60 years are on display. Artwork of all types, shapes and colors are for sale. Each purchase is greatly appreciated from a pretty card of an original piece to the actual masterpiece.

Hope to see you there.


January 31st, 2018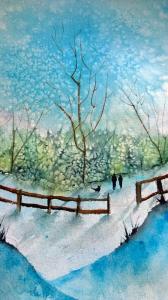 From a female trucker to a watercolorist can there be any more opposite professions?

I know for me four years ago as I began this journey that started with a $25, 2 hour introduction into Watercolor class, that I never could have seen this happen. I had been hurt bad and was told I could never drive a rig again so as I fell into sadness from the loss of the only world I had known for 25+ years I dug deep within to find something else to fill the void. I tried beading and photography and did the best I could by adding my spot to this site. I made some sales each year that covered the fee which I settled for and then I began to open up on other sites all the while I blogged about it on my wordpress site under the name NUTSFORTREASURE. Yes it is where I wrote stories about life and added some photos to go with them. I wrote poetry I am telling you I was floundering trying to fill those 18 hours each day I had spent in my rig. Re-inventing oneself at 50 is hard.

Now to the present, year 4 starts with entering so many shows I must add them to the calendar just to have pieces ready in time. Never give up is all I can say. I still miss the road don't get me wrong but the paintings you will see from me come from a place within. I use no photos I just let them flow from me onto the wet paper never knowing where it will end and if it will be worthy of a frame. You see I have finally let go of the wheel and let God guide me on this next trip and OH and what a trip!